Today's Teak supply issues are far from new. In fact, the availability and quality of Burmese Teak have been suffering for over 150 years. In a nut shell, here's the basic issue: "The forest resources of Myanmar, though scientifically managed since 1856, have been decreasing gradually both in extent and quality due to increased population pressure and consequent rising demands for the forest land and forest products." Even still, J. Gibson McIlvain refuses to sell any Teak other than authentic Burmese Teak.
Plantation Teak Problems
By limiting our Teak selection to Burmese Teak, we're not being unnecessarily narrow; instead, such a policy is perfectly in keeping with our commitment to quality that pervades all our lumber selections and operations. (As a side note, we're not always anti-Plantation-grown lumber.) The FEQ Teak with that famous golden hue and straight, vertical grain is only consistently found on the island of Myanmar. While we've visited Teak plantations and considered purchasing plantation Teak, we've simply found it to be sub-par.
Some of the differences we've noticed have included inconsistent coloring and pin knots, both of which are created due to the faster growth rate and relatively sparse forest canopy. Caused by a larger incidence of lower branches, the greater number of pin knots creates a problem that affects more than just appearances: each knot interrupts the flow of grain, creating a trap for water and reducing the weather resistance for which Teak is highly prized.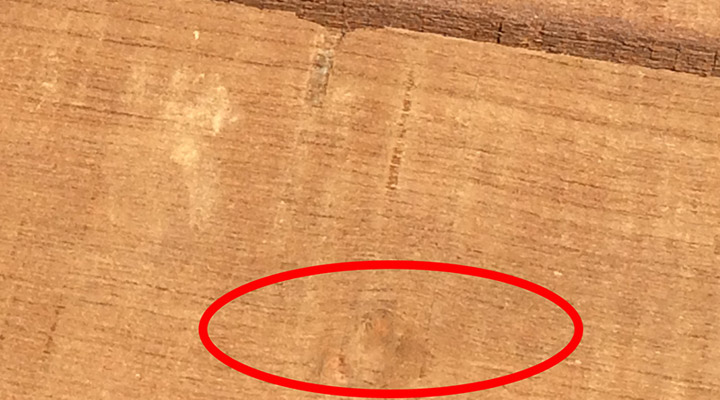 Plantation Teak Locations
An added issue with plantation Teak is tied directly to the locations of the plantations, rather than the plantation scenario, itself; the soil chemistry in which Teak plantations are currently located contain a dramatically lower percentage of silica content. Since it's largely the high percentage of silica that contributes to the water-resistant nature of Burmese Teak, this issue is a definite deal-breaker for our boat-building customers; as a result, it's not a good fit for us. The soil chemistry isn't the only issue, either: the variation in climate also contributes to creating boards that are much less consistent in both grain and color.
Old Growth Teak Challenges
We know our customers' needs well, so we know that they require the consistent coloring, as well as the clear, straight grain and weather-resistant qualities found only in authentic Burmese Teak. At the same time, we completely identify with the quest for sustainability that has fueled the movement toward plantation Teak.
We passionately believe that the best solution for producing sustainable, quality Teak is proper forestry management of old growth Teak forests. We do our part to contribute to this ideal solution by purchasing Teak from only those mills that employ sustainable, environmentally responsible practices. While Myanmar forests have long been known for their sustainable management practices, the past 50 years have entailed a military regime ruling the nation, and the result has been a less-than-transparent information stream regarding the upkeep of the forests. Since the global demand for Teak has greatly increased during that time period, even stronger regulations have been needed in order to protect this important natural resource.